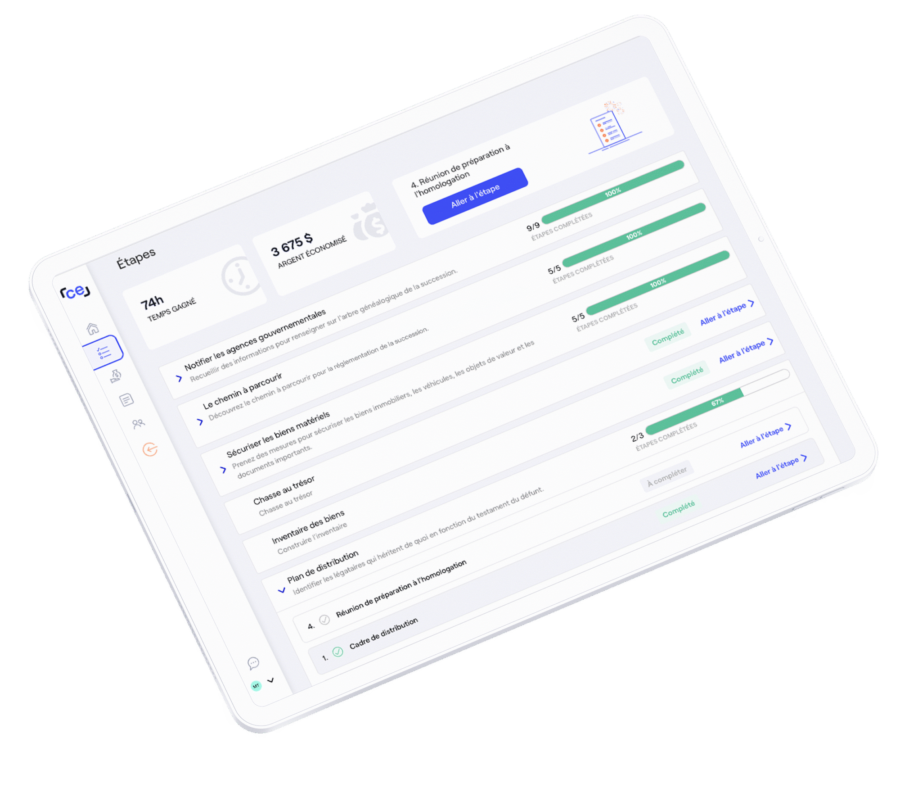 Usually it takes an executor almost a year to settle an estate, with many just figuring it out as they go. We believe that it doesn't have to be that way. With ClearEstate's help, you can save:
Over 120 hours of paperwork
More than $8,500 in fees
Countless headaches and stress-induced nightmares
Estate Settlement can be complex. Let us take that burden off your shoulders and do all the heavy lifting for you.
Book a free consultation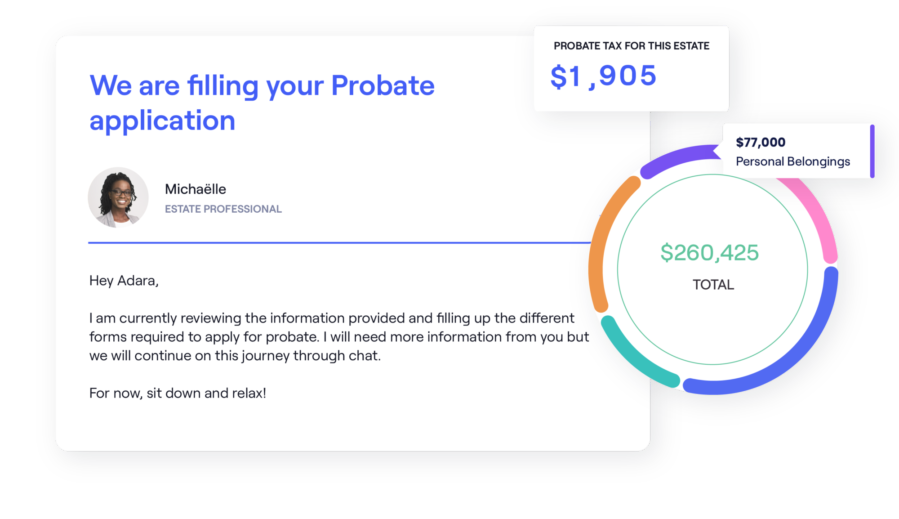 Here's how we help you
Probate
Our handy probate checklist ensures you're always on top of things
We'll help you prepare an inventory of the estate and get through all the application paperwork.
Our intuitive dashboard helps you keep track of your progress
No will? No problem. We'll help you navigate the rules of probate for estates without wills
Book a free consultation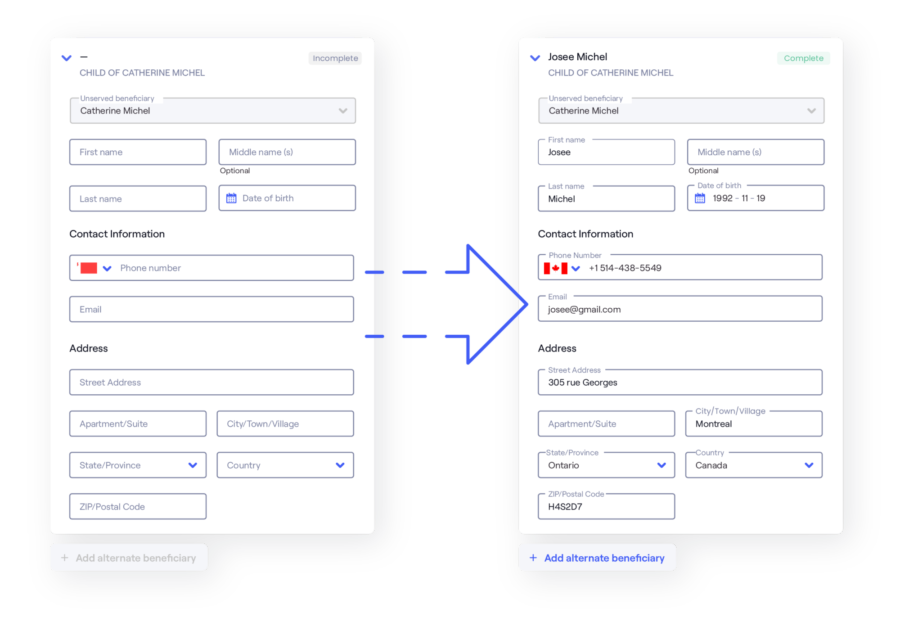 Paperwork wizardry
We simplified all the form-filing and record-keeping by creating an autofill feature for most documents, one-click form submissions

Our nifty activity log makes record-keeping a breeze
Book a free consultation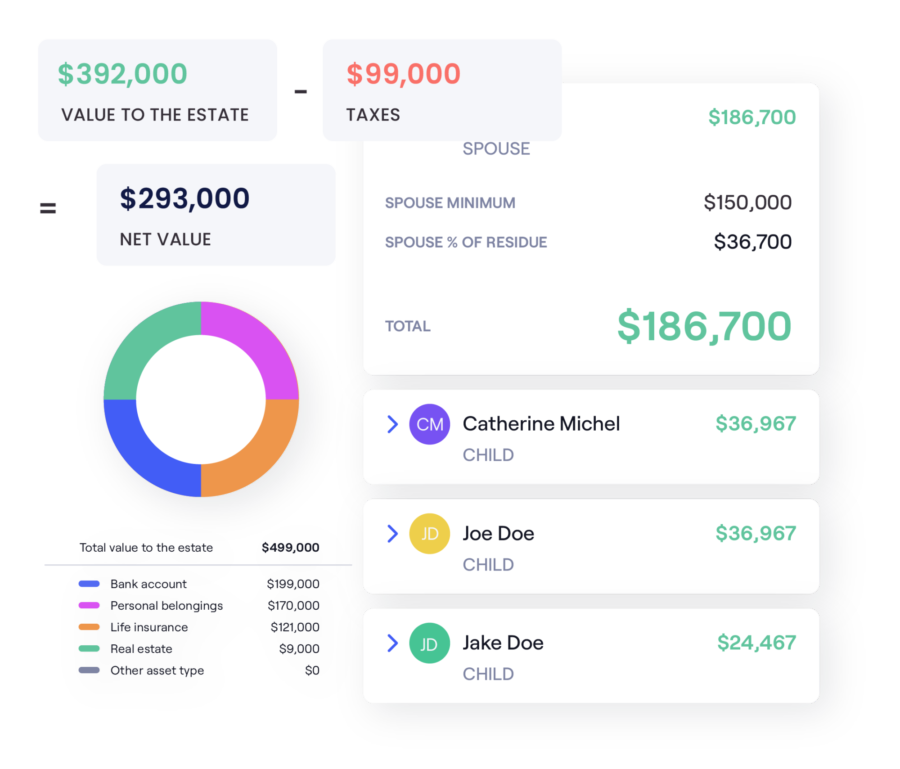 Cost estimates and inheritance calculator
You don't need an accountant for simpler calculations. ClearEstate helps you keep track of fees and expenses

Our inheritance calculator lets everyone see exactly who gets what after all loose ends are tied up
Book a free consultation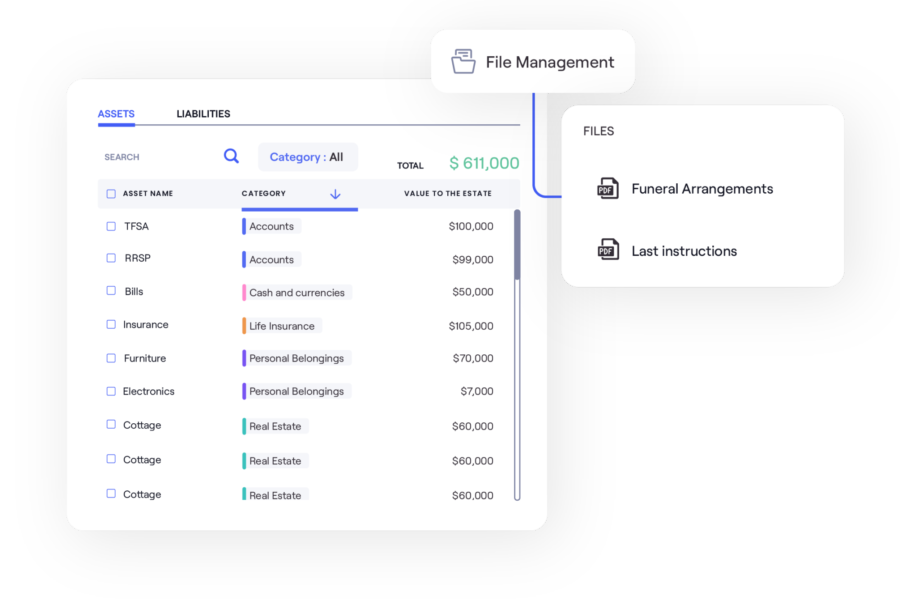 Accessible inventory
No more scrambling for receipts, notes, and other financial documents. Keep track of the entire estate, including debts, real estate, cash, pension plans, and personal property

Executors and beneficiaries have access to this inventory
Book a free consultation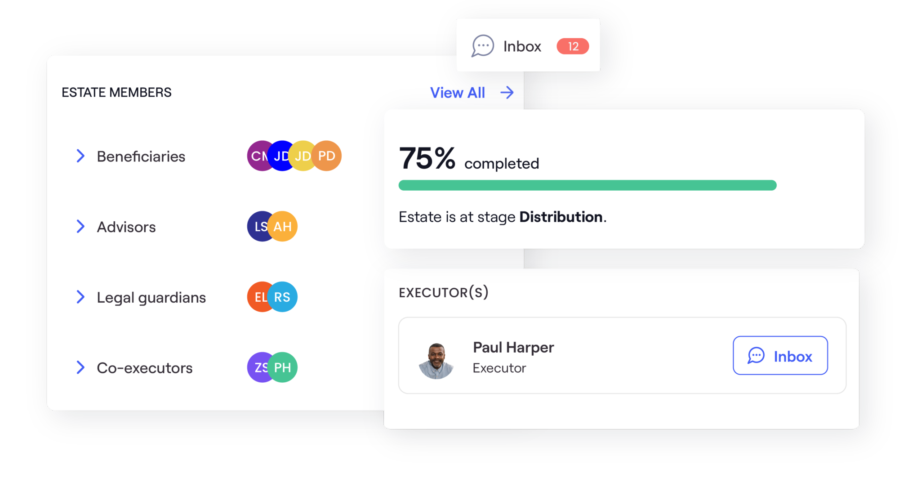 Beneficiary Portal
Our beneficiary portal allows all authorized parties to follow the estate settlement progress in real time and rest easy knowing that there are written records of all communications.

The transparent nature of the portal helps avoid misunderstandings, frustrations, and hurt feelings.
Book a free consultation

Digital documents vault
Our digital vault ensures that every communication, transaction, and documents pertaining to the estate are kept in a safe place where only relevant parties can access them.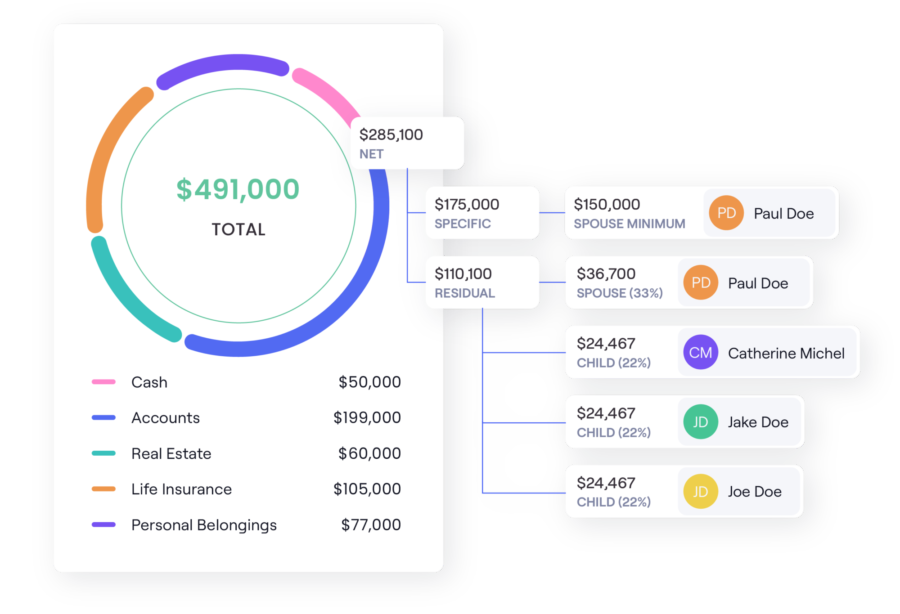 Estate distribution
ClearEstate creates a clear distribution plan for the estate's assets according to the will and your area of jurisdiction

Once that's done, we'll help you send off the right paperwork to properly close the estate.
Book a free consultation
Traditional Way
Find and hire an attorney
In person meetings
Costly probate application
10 to 25 hours and extra costs of additional support
Find and hire a tax accountant
Extra costs to file taxes
ClearEstate Way
Dedicated support from an estate professional
Communicate via email, zoom, chat, phone, from your home
Complete end-to-end support
Online dashboard for all stakeholders Additional $650 or $55/mo for 12 months
Additional $650 or $55/mo for 12 months
Additional $650 or $55/mo for 12 months
Additional $650 or $55/mo for 12 months
Dedicated Estate Professional
Probate application
Judicial process whereby the representative of the estate and the will, if there is one, is validated
Document notarization
Applicable for virtual notarizations only
Continued support after probate
When we say end-to-end estate settlement process, we mean it.
Estate Overview Dashboard
Estate Accounting Dashboard
Dedicated online chat for estate members and professionals
Inventory of assets and liabilities
Discovery of assets & liabilities
Representation with financial institutions
up to 20h for notifications & follow-ups
up to 50h for notifications & follow-ups
Representation with other 3rd parties
up to 10h + 2 written follow-ups/each
up to 25h + 2 written follow-ups/each
Tax filings
Year of death, estate tax return and clearance
Estate transaction report
Available where online access is permitted by the financial institution
*Subject to approval by the buy-now-pay-later financing provider. Certain conditions apply.
**Some estates are more complicated to settle than others. This is often the case when a trust has been established; if the property of the deceased is located in more than one jurisdiction; if the assets of the deceased includes equity in a corporation, partnership or other legal body; or if the estate is settled in a jurisdiction where the law requires the services of an attorney. If further to our review we believe that settling the estate requires additional, specific or more sophisticated professional services, we will mention it to you and we will suggest that you retain the services of third party professionals in order to settle the estate. We understand that you may however prefer that we continue to handle the settling of the estate for you. If that is the case, we will retain the services of professionals to address those specific issues. Additional fees will then apply. For more information, see our privacy policy and terms of use.